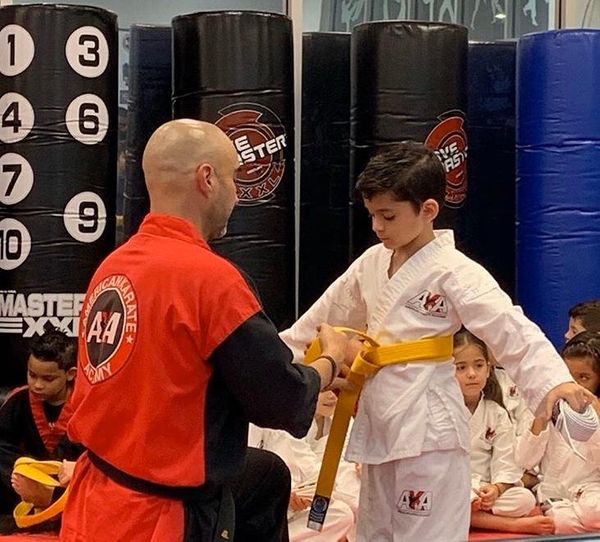 American Karate Academy provides an enriched and diverse learning environment for our students. The main focus of our martial arts school is to make a difference in our students not only in the Martial Arts but in Life as well. Much beyond attaining physical fitness and practicing self-defense, our philosophy in the teaching of martial arts is that the fundamental goal is to shape successful students to be true "Champions in Life" and create a better world. Our overarching goal is in building our student's self-esteem and creating Winners in Life. At American Karate Academy we offer our students the highest quality instructions with the latest martial arts techniques. Our carefully planned and time tested curriculum goes far beyond teaching the art of self defense. Our teaching methods are based on well rounded realistic self- defense training techniques to prepare our students to any situation.
At American Karate Academy as soon as you enroll to our school, you join a family oriented karate school that works together toward improved physical strength and stamina, better focus and concentration, greater self discipline, competency in self defense and, most importantly, increased self confidence.
For us at American Karate Academy , the practice of martial arts means respecting each other, encouraging and supporting each other and celebrating each other's successes.
These values are especially important in working with children and families — the primary focus of our karate school.
We have martial arts programs for students of all ages.
For children, our emphasis is on character development, peer pressure, physical fitness and drug free.
With adults, our goal is to deliver all of the benefits of martial arts, including improved muscle tone, increased cardiovascular fitness, lower stress levels, increased energy, and greater flexibility.
Self defense is also emphasized, but it's always tempered with the training on how to seek alternatives to conflict.
Here at American Karate Academy we are committed to teaching the physical skills while applying attitude-shaping exercises aimed at bringing out the best character and physical potential in each student.
We hope you become a martial arts student here at American Karate Academy.
Honesty – Faithful to the Truth.
Integrity – Do the Right Thing
Compassion – Do Good to Others
Politeness – Show Good Manners to Others
Loyalty – Devotion and Dedication
Justice – Be Fair or Right with Others
Courage – Face Danger without showing Fear